The Markha Valley is one of the most popular treks in Ladakh. It is relatively short, located close to Leh, the walking is mostly below 4000 metres with night stops around 3500 metres and has the best of Ladakh thrown in: Sculpted canyons and fantastic rock formations, medieval villages, Buddhist gompas and snow-peaks. When approached from Chilling  and Skiu there is only one pass to cross the Kongamaru La which comes on Day 6 of the trek by which time most trekkers are properly acclimatized.
Who should join this trek?
A good choice for regular hill walkers, moderate level of fitness required. Prior trekking experience is advisable as it is a camping trek.
1) Walking times: average 6 to 7  hours walking per day.
2) Altitude: up to 5,300 metres at the Kongmaru La pass  and around  3500-4400 metres at the campsites.
3) Terrain: for some of the time following well-travelled trails although also likely to encounter rough and rocky conditions near the passes.
4) Remoteness: the trek is in a remote mountain area but not far from the roadheads at Shang Sumdo and Skiu.  There is no mobile phones and wifi connectivity on the trek.
Trek Leader - Sujoy Das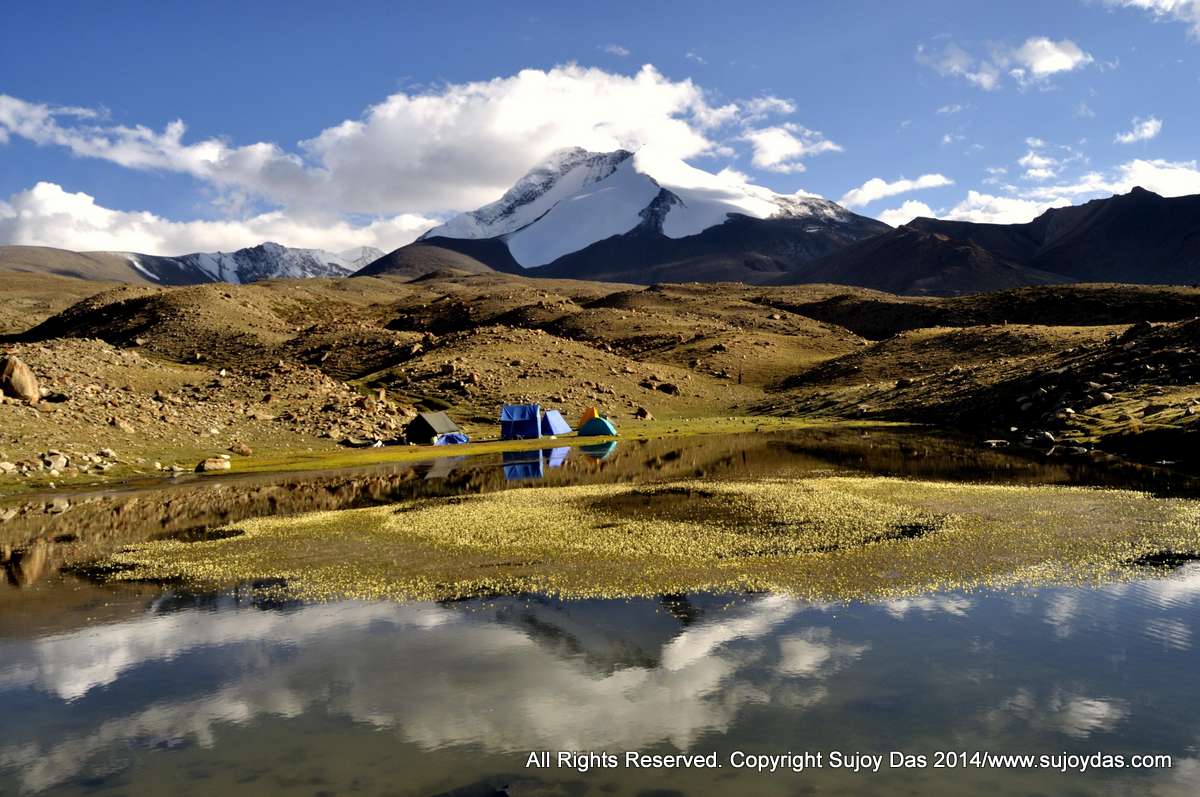 Day 01 Delhi to Leh We take the spectacular one hour flight over the Himalayas to Leh. Be prepared to sit on the left hand window seat for the best views. The rest of the day is spent acclimatizing in Leh. 
Day 02 Acclimatization day in and around Leh

We take the opportunity to visit some of the splendid monasteries in and around Leh like Shey, Thikse, Hemis etc.
Day 03 Leh to Skiu by road 3 hours and walk to Sera 3400m (3-4 hours)

We leave Leh in the morning after an early breakfast and then drive to Skiu in around three hours. We meet our pony man and support team in Skiu. From Skiu we start our four hour walk to Sera and reach by late afternoon.
Day 04 Sera to Umlung a 3600 m ( 5 to 6 hours) The trail is mostly flat following the Markha river. After around three hours the trail crosses a bridge and enters Markha village a good lunch stop from here is about 2 to 3 hours to Umlung.
Day 05 Umlung to Tauhungtse 3900 metres 5-6 hours From Umlung the trail initially followed the river valley and then contoured around some mani walls and chortens from where finally Hanker could be seen. The final walk to the village took around an hour as there were sections which had to be carefully navigated near the river where the path was nonexistent and a slight lapse of concentration would send you into the water. Hanker is 2 hours from Umlung and then another 2-3 hours brings you to the tea tents of Tauhungtse.
Day 06 Tauhungtse to Tea tent

This is a very short day and the camp is near a small lake below Kangyatse peak Tea Tent (lake) 3 hours 
Day 07 Tea Tent to Nimaling ( 4720 meters) 2 hours uphill The trail climbs to Nimaling which is a large valley where yaks, sheep and goats are grazed by the villagers of Markha. We do a short day to Nimaling as the next day has a pass crossing and a stiff downhill! It is beautiful campsite but can often be cold and windy!
Day 08 Nimaling to Kongmaru La 5100 meters 2 hours and then down to Chukirmo/Chokdo 4050 meters four to 5 hours – drive to Leh

The trail then climbs to the pass of Kongmaru La from where there are good views over the Zanskar mountains and the peak of Kang Yaze. From the pass the trail drops steeply f and then Chokdo from where we drive to Leh.
Day 09 Leh to Delhi We can avail the morning flight from Leh to Delhi and be back in civilization in an hour! In case you wish to stay on in Leh further please do inform us for hotel bookings and onward reservations.
The final dates will be updated soon - tentative dates are last week of June 2020 starting 20th June 2020
COSTS - Please email sujoyrdas@gmail.com for an updated cost for this trek in 2020
The cost is per person for Leh to Leh  (9 days ) as per the itinerary given earlier
Costs given above are at current rates  of 2020 and may change without notice .  Changes if any will be notified 3 months before the trek.
Costs include:
Transfer by four wheel drive vehicle from Leh to Skiu ( start of trek) and pickup from Chogdo to Leh at the end of the trek. 
One day monastery visits  around Leh – Shey, Thikse, Hemis etc. on day 2 in a private vehicle
Three nights accommodation in Leh on twin sharing basis in a good  hotel – Hotel Omasila is our preferred choice.
All accommodation in tents and meals  on trek  for six  days ( day 3 to day 8) as per itinerary; breakfast, lunch and dinner.
Cost of guides/cook/helper/ponyman and ponies as needed for the trek. 
Costs not included
Flight Costs from home country to Leh and back.
Lunch and dinner in Leh is not covered.    
Airport taxes if any.  
Client travel and medical insurance of any kind.  Emergency evacuation costs if needed.
Bottled drinks; boiled, filtered or bottled water; alcohol; snacks etc
Personal clothing and equipment; sleeping bag;  duvet /down/ goretek jacket, medicines for personal use etc.
Tips to guides/cook/helper/ponyman  at the end of trek
Estimate of Costs not included
Present cost of air ticket Delhi – Leh – Delhi ranges between Indian Rs 12,000 to Rs 25,000 return.  Early bookings will attract lower fares. Some airlines flying to Leh from Delhi are Vistara , Air India and Go Air.
Sujoy Das
+ 91 9831054569
sujoyrdas@gmail.com
Special Information for the Markha Valley Trek
The Markha Valley trek is a full support camping trek with ponies, guide, cook, helpers.

It is not a lodge or tea house trek though there are some tea tents in the season where basic refreshments like noodles, tea, soup etc may be available.

Tents with mattresses will be provided every night. Quilts and blankets will not be possible. You will need a warm sleeping bag at least three season.

We will have a team of one cook and two helpers who will cook all meals. Food will be basic like porridge, cornflakes, some eggs, chapattis, rice, dal, vegetables etc. All food will be carried from Leh.

Our bags and luggage will be carried by ponies supervised by a pony man.

Toilets will not be available on the trail. – we will provide toilet tents for the trek.
CANCELLATION POLICY

The cancellation policy and refunds available are given below:

0-7 days before the start of the trek =75% 

8 -15 days before the start of the trek = 50%

16-30 days before the start of the trek = 35%

31-45 days before the start of the trek = 25%

46 days and above = 15%

 

IN CASE OF LEAVING THE GROUP

If due to illness or any other reason a client has to leave the group and go down or wait at a campsite for the group to pick him/her up on the way back, all expenses including lodging, fooding and any porter/guide related expenses if any are to be borne by the individual client over and above the trek fees paid for the trek. There are also no refunds for leaving a trek before completion.

 

HIRING OF PONIES ETC

In the eventuality of a client needed the services of a pony to come down to lower altitudes, the cost of hiring the pony will be paid by the client.
CAMPSITES ON THE TREK

The choice of campsites to be used on the trek will be decided by South Col and clients will have to stay at these designated campsites. Clients are not permitted to choose their own campsites on the route.

 

TREK ROUTE

The trek route and day wise schedule will be fixed by South Col and will have to be followed by the client.

 

RISKS AND LIABILITY

The trek is in a remote mountain area and has certain additional dangers and risks, some of which include: physical exertion for which the client should be prepared; weather extremes subject to sudden and unexpected changes; remoteness from normal medical services; evacuation difficulties.

In the event of injury or illness South Col Expeditions (Sujoy Das) or its Staff can, at the clients cost arrange any medical treatment and emergency evacuation service as it or they deem necessary for the health and safety of the client. Waiver of liability form as per link attached to be signed by the client. https://www.southcol.com/waiver-of-liability-release/