The classic fourteen day Everest Base Camp and Kala Pattar trek!  Best possible lodges en route, safe acclimatisation programme and rest days make this a memorable Everest experience.  

Who should join this trek?
A good choice for regular hill walkers, high level of fitness required.
1) Walking times: average 5 to 8 hours walking per day (with some longer days Lobuche to Everest Base Camp and back upto  ten hours) with some rest days included.
2) Altitude: up to 5,646 m at Kala Pattar
3) Terrain: for some of the time following well-travelled trails although also likely to encounter rough and rocky conditions. There is a steep ascent  to Kala Pattar  which could be snow covered.
4) Remoteness: the trek is in a remote mountain area and a long distance from the roadhead and the nearest cities. However mobile phones and wifi will work on most of the days.
5) High altitude insurance including emergency evacuation insurance by helicopter is compulsory for this trek.
Trek Leader - The trek will be led by Shyam Tamang a veteran South Col guide with many visits to the Everest region.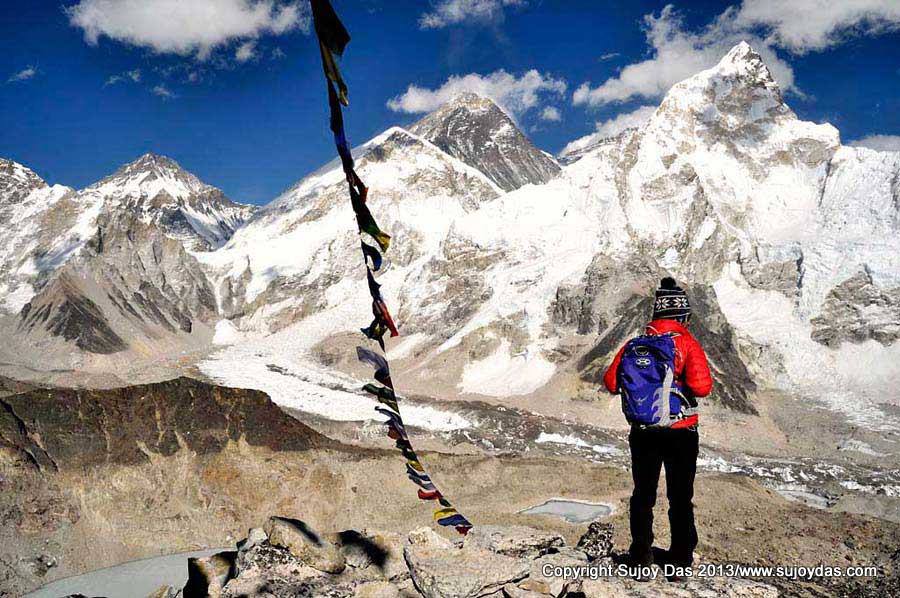 DAY WISE SCHEDULE
Day 1: Flight from Kathmandu to Lukla and walk to Phakding or Benkar (4 – 5 hours) We take the early morning flight from Kathmandu and land at Lukla airport in 30 minutes. After breakfast at a lodge in Lukla we begin the easy first day's walk to Phakding (2800 metres) or if the flight is on time carry on further for an hour to Benkar
Day 2 : Phakding /Benkar to Namche Bazar (3450 metres) (5 to 6 hours) We leave Phakding around 7.30 am after breakfast and walk up the valley with tantalizing views of Thamerku to the National Park gates at Monjo. After checking of our permits we descend in 20 minutes to Jorsale where we stop for an early lunch. From Jorsale we cross the Imja Khola and start the steep three hour climb to the Sherpa capital Namche Bazar.
Day 3 Acclimatization Day in Namche Bazar We have our first acclimatization day at Namche. Many of us would sit at the bakery and have apple pie while the more intrepid would go for an acclimatization walk to the top of the hill!
Day 04 Namche Bazar to Devoche (3790m) (6-7 hours) We leave Namche and follow the trail to Kyanjuma and then drop into the valley to Phunki Tenga. From Phunki it is a two hour climb to Thyanboche. From Thyanboche the lodges of Devoche are 20 minutes down the valley.
Day 5 Devoche to Dingboche (4350m) (5 to 6 hours) The trail leaves Devoche and then crosses the river over a suspension bridge which offers a great view of Ama Dablam above the crashing waters of the Dudh Kosi. It then passes a large mani wall in the middle of the trail and finally levels out to reach Pangboche. The trail follows the Imja Khola and passes the yak grazing areas of Shomare and then the small tea house of Orsho. The trail then crosses a bridge over the river. The right path leads to Dingboche about 45 minutes from the bridge.

Day 06 Rest Day at Dingboche The rest day at Dingboche can be used for a day walk upto Chukung with fabulous views of the Lhotse/Nuptse wall and Ama Dablam as well. Alternatively a half day walk can be made to the Nangkartshang peak or the Ama Dablam lakes across the moraine.
Day 07 Dingboche to Lobuche (4940m) (5 to 6 hours) We climb the ridge behind the village and then come onto a level plain with enormous views of Taboche in the background. The trail continues along the plain and then crosses a bridge and climbs gently to Dugla 4600m. We stop at the Yak Lodge for an early lunch at Dugla. The hill to climb after Dugla can be hard especially if you are having problems with altitude. At the crest are the "Everest memorials" for sherpas and climbers who did not make it down from Everest. From the memorials the gradient eases off and in about an hour you can spot the lodges of Lobuche.
Day 08 Lobuche to Gorak Shep (5170m) (3 to 4 hours) The trail follows the moraine of the Khumbu glacier and there is a lot of hard walking over boulders and scree slopes. Pumori comes into view as one approaches Gorak Shep. We usually reach Gorak Shep by 11 am in the morning. If the weather is good we can make it to Kala Pattar in the evening or go to Everest Base Camp.
Day 09 Gorak Shep to Everest Base Camp /Kala Pattar (5554m) and back to Lobuche
The climb to the view point of Kala Pattar would take around two hours depending on the level of acclimatization. From this high point a, magnificent 360 degree view unfolds with all the major peaks of the region visible. We come down in an hour to Gorak Shep and after a quick lunch head down the valley to Lobuche which is usually reached by evening. This is a long day but a better alternative to spending two nights at Gorak Shep.
Day 10 Lobuche to Pangboche (5 to 6 hours)
The descent down the valley is now swift as we are losing altitude and the air is getting thicker. We stop for lunch at Pheriche and then reach Pangboche by late afternoon. 
Day 11 Pangboche to Namche Bazar ( 5 to 6 hours) 
We walk down to Thyangboche and then with a quick stop for tea descend steeply to Phunki Tenka. Lunch is at Phunki Tenka and we then climb for Namche Bazar which we reach by evening
Day 12 Namche Bazar to Monjo ( 4 to 5 hours) 
We leave Namche after breakfast and descend steeply to the Benkar Bridge. From the bridge we climb up to the Park Headquarters and then the trail levels and enters Monjo. 
Day 13 Monjo to Lukla ( 4 to 5 hours) 
Our last day of walking takes up back to the airstrip of Lukla.
Day 14 Lukla to Kathmandu - by morning flight
March 26th to April 8th 2017 Kathmandu to Kathmandu. You need to reach Kathmandu on March 25th 2017  to start the trek on March 26th  2017.
Rs 75,000 for Indian Citizens and US$ 1400 for foreign passport holders (Meals not included). Service Tax @ 4.50% on the above amount is extra.  Please budget an additional USD 450 for meals, hot water in flasks, battery charging, wi fi charges, gas showers in lodges for fourteen  days trekking.
The cost is per person for Kathmandu to Kathmandu (14 days ) as per the itinerary given
Costs given above are at current rates of 2016 and may change without notice. Changes if any will be notified 3 months before the trek.
Costs include:
Taxi fare from hotel in Katmandu to airport and back for Lukla flight
Sagarmatha National Park permit and TIMS permit for trekking in the Everest region.
Flight cost Kathmandu Lukla to Kathmandu presently USD 360 return.
All accommodation on the trek on twin sharing basis. In Namche Bazar for two nights top end deluxe rooms with attached bathrooms and hot showers will be provided and on return one night similar facilities will be provided. Rest of the accomodation with be rooms on twin sharing basis with non attached bathrooms - usually in the corridor.
Hotel accommodation in Kathmandu one night on the way in and one night on the way out is covered in good Thamel hotel with breakfast.
Cost of porters/guides for the trek. Please note that porters will carry one duffel bag or backpack not exceeding 10 kgs weight for each trekker comprising of personal items, clothing, sleeping bag etc.
Costs not included
Meals in Kathmandu and Lukla.
Breakfast lunch and dinner on the trek is not included. Desserts, drinks, and exotic items listed in the lodge menus are not included. Alcohol, cold drinks (coca cola, sprite, beer), juices, ice cream etc on the trek and in Lukla.
Client travel and medical insurance of any kind. Emergency evacuation costs if needed.
Video camera fees in National Parks (where applicable).
Bottled drinks; boiled, filtered or bottled water; alcohol; snacks etc
Hot showers (Rs 300 per shower) is not included at lodges with shared toilets.
Personal clothing and equipment; sleeping bag; down/ goretek jacket, medicines for personal use etc.
Air fare from residence country to Nepal and back
Tips to porters at the end of trek estimate @ US 50 per trekker to the common pool.
 
ITEMS 
REMARKS
 
Duffle Bag
All the equipment listed below other than what you need for the day should be packed into a duffle bag, locked and handed over to the porters in the morning. In case you cannot get a duffle bag in your home country these are available very cheap in Kathmandu and I can help you with this. The duffle bag should not weight more than 10 kgs! 
1
Sleeping Bag
Warm sleeping bag is needed at least three season rated to 15F
2
Daypack or Hipbelt 
To carry water, one jacket some nuts, chocolates, cap, camera to keep with you in the day, maybe gloves and cap as well, hiking poles etc.
3
Boots or  Trekking Shoes
one pair  
4
Slippers or Sandals for camp
lightweight to wear in the evenings
5
warm Socks
2 pairs to carry  and one pair to wear
6
Gloves
one pair 
7
Underwear
1 to wear and 2 to carry
8
Warm Cap
one- Wool or fleece is usually good
9
Heavy jacket 
the warmest you can get as nights and early mornings are cold - down is usually preferred otherwise a warm synthetic filled jacket.
10
Thermal Underwear ( top and bottom) - long johns
inner layer to wear at night and early morning ;  
11
Mid Layer
Usually a jacket of fleece or wool which can be worn over a thermal layer or by itself while walking 
12
T shirts for walking
one to wear and 2 to carry - if the sun is hot you can walk in a T shirt
13
Trousers /tights etc
one to wear and one to carry light weight preferred
14
One Rain Jacket /Wind Jacket/Soft Shell jacket 
useful in case of wind ... you may need it in light rain though we would usually take shelter and wait for the rain to stop. Our trek is not in  the rainy season though some light rain/snow  in the late afternoon evenings cannot be ruled out. 
15
Torch or headlamp
one small needed  carry one set spare batteries
16
Sun bloc
one small tube should be ok spf 30 or 50
17
some essential medicines
vitamins, headache,  fever,  pain killers, diamox for altitude, your own specific medicines  etc
18
Hiking poles
if you have bad knees then this is recommended especially on the down hills!!
19
Water bottle 
one no 500 ml  or 1 litre is ok you can use the 500 or 600 ml empty coke or pepis bottles
20
Sun glasses
the sun is strong in the day
21
Cap for the sun
ditto!
22
small towel
for baths and wash up in case you can use the hot shower
23
toothbrush, paste, soap, shampoo, vaseline, comb
and any other toilet items you may need!
24
wet tissues - wet ones for bathroom
called wet ones in India
25
some washing powder surf etc small
to wash clothes en route if needed
26
Nuts, raisins etc all mixed up
can be divided into small packets for daily use
27
Chocolates /Energy Bars/Amul cheese slices/tea bags
Carry some chocolates or energy bars to have on the way. Amul cheese slices are very useful and can be had as snacks when you are tired of sweets!
28
Sweets
for energy
29
Volini  gel/ Bengay etc for aches and  pains
or any other equivalent
30
Iodine or chlorine tablets  for water purification
available in Kathmandu- this is important as mineral  water bottles are expensive; for overseas visitors you can get iodine tablets in REI and other large outdoor outlets
31
Electral or any other rehydating salts
Carry a few small packets  of electrolyte - useful to have mixed with water if dehydrated
32
some spare plastic bags to pack  wet stuff, dirty clothes etc 
 
33
Book in case you want to read on the way and IPOd for music optional!
34
Two  small locks one for your duffle bag and one for your room in case the lodge does not have a lock
35
Clothes line with hooks on either side in case you want to hang up your wet clothes to dry outside!!
36
Super Glue
 To patch up boots that may give way!
37
Face mask 
For dust, cold winds etc available in kathmandu
38
Extra shoe laces 
one pair
39
Binoculars
 
Sujoy Das
India: +919831054569; Nepal: +977 9818037020
Lok Silwal
Nepal: +977 9851022984
CANCELLATION POLICY
The cancellation policy and refunds available are given below:
0-7 days before the start of the trek =75%
8 -15 days before the start of the trek = 50%
16-30 days before the start of the trek = 35%
31-45 days before the start of the trek = 25%
46 days and above = 15%
IN CASE OF LEAVING THE GROUP
If due to illness or any other reason a client has to leave the group and go down or wait at a lodge for the group to pick him/her up on the way back, all expenses including lodging, fooding and any porter/guide related expenses if any are to be borne by the individual client over and above the trek fees paid for the trek. There are also no refunds for leaving a trek before completion.
EVACUATION BY HELICOPTER
In the eventuality of not being covered by emergency helicopter evacuation insurance and an evacuation is considered necessary, the cost of the evacuation will be paid by the client in advance to the helicopter company/travel agent etc as deemed necessary.
HIRING OF PONIES ETC
In the eventuality of a client needed the services of a pony to come down to lower altitudes, the cost of hiring the pony will be paid by the client.
CANCELLATION OF LUKLA FLIGHTS
In case the Kathmandu to Lukla flight is cancelled, the additional cost for hotel accommodation in Kathmandu is to be paid by the client over and above the contracted days accommodation provided.
In case the Lukla to Kathmandu flight is cancelled, the client has the following options:
a) Continue to remain in Lukla at the client's cost (both fooding and accommodation) and try for a flight the next day or day after.
b) Depart from Lukla if possible using the services of a helicopter usually US $ 500per person to be paid by the client. In this case the one way flight cancellation charges will be refunded to the client.
LODGES ON THE TREK
The choice of lodges to be used on the trek will be decided by South Col and clients will have to stay at these designated lodges. Clients are not permitted to choose their own lodges on the route.
TREK ROUTE
The trek route and day wise schedule will be fixed by South Col and will have to be followed by the client.
RISKS AND LIABILITY
The trek is in a remote mountain area and has certain additional dangers and risks, some of which include: physical exertion for which the client should be prepared; weather extremes subject to sudden and unexpected changes; remoteness from normal medical services; evacuation difficulties.
In the event of injury or illness South Col Expeditions (Sujoy Das) or its Staff can, at the clients cost arrange any medical treatment and emergency evacuation service as it or they deem necessary for the health and safety of the client.