If you are fit and can manage only one trek in Ladakh, I recommend this one. The trails are relatively free of noisy tourists who prefer the great herd at Markha. Here, the rolling, billowing grasslands stretching out as far as the horizon are usually empty, giving one the sense of infinite, almost primordial space. Occassionally you will chance upon a nomad on horseback herding his great lumbering, shaggy yaks. Ranging across the western extension of the high Tibetan or Changthang plateau, the trek starts at over 4000 m at Ponganabu on the shores of Tso Kar Lake , well above that throughout, often peaking over 5000m at the passes. And though this at first may be daunting, once you have acclimatised the walk is surprisingly easy on the legs as the trails— mostly well-defined stone and gravel-free paths— meander gently through velvet-soft pastures. . This area is colder and windier than other treks in Ladakh, so ensure you have a good parka and a warm sleeping bag.
Who should join this trek?
A good choice for regular hill walkers, high level of fitness required. Prior trekking experience is advisable
1) Walking times: average 5 to 8 hours walking per day
2) Altitude: up to 5,450 metres - most of the trek stays above 4000 metres with passes above 5000 metres.
3) Terrain: for some of the time following well-travelled trails although also likely to encounter rough and rocky conditions.
4) Remoteness: the trek is in a remote mountain area and a long distance from the roadhead and the nearest cities. There is no mobile phones and wifi connectivity.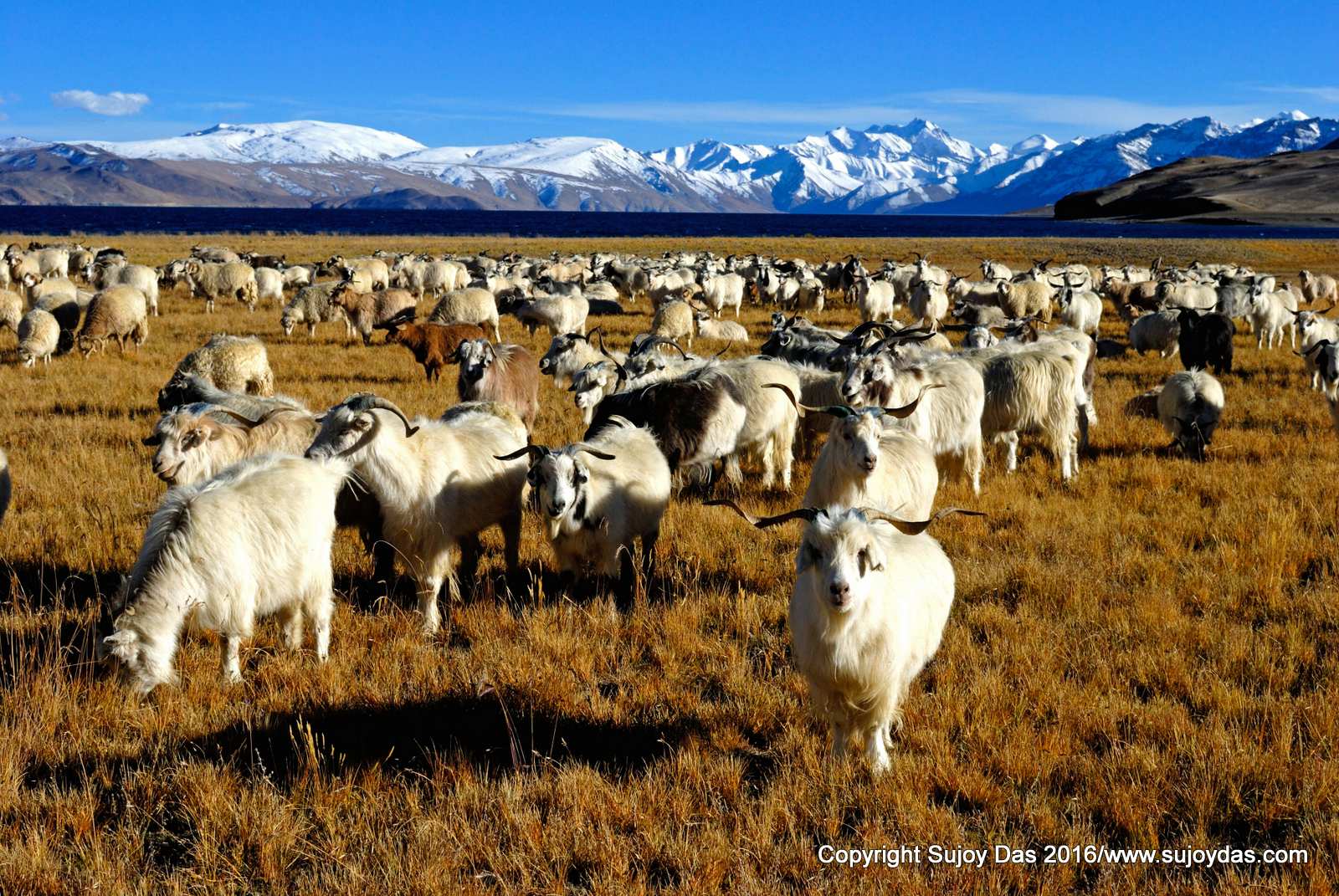 This route description is courtesy Sonia Jabbar
August 8-19 2018
Day 1: Delhi to Leh by flight and rest in Leh.
Days 2 and 3 : Acclimatisation days in Leh and around monasteries.
Day 4 Drive from Leh to Tso Kar lake 4 hours and then to Ponganabu to camp for the night (4500 metres).  
 Day 5: Ponganagu to Riyul Time: 2-3 hours Level: Easy Riyul to Nuruchan (4350m) 4 hours 16 km moderate
If you're not absolutely dead tired, another two to three hours of easy walking on almost flat motorable road along the right or western edge of the lake will lead you to a large chorten beside lush pasture land which marks the campsite of Riyul. You can have lunch here. 
Then, follow the jeep road which runs on the right of the pasture moving south. The road traverses soft, sandy soil which makes the first few hours difficult walking. Some 4x4 have made tracks moving south-east. Do not follow this. Carry on south until you reach the fields of Nuruchan (4350 metres). If you are walking from Ponganagu you may want to camp here. The campsite is further south from the village. The track follows the river upstream, curving to the right.
Day 6 Nuruchan to Rajankaru (4900 metres ) 8 km  4 to 5 hours Level: Moderate
Cross the river at some point upstream. Wherever you cross you will have to take your boots off and wade across the calf-deep waters. Climb onto the other bank and climb up the plateau in front. Walk in a south easterly direction. The path is well defined and climbs very gradually to the top of the Horlam Kunga pass. From Nuruchan it should have taken no more than three to four hours to the top. From the pass follow the path which goes down rapidly to the base of the valley in a south-easterly direction to Rajungkaru. There are many places to camp here. It's also a favourite with the nomads. Although their camps are picturesque watch out for their large, fierce dogs.
 Day 7: Rajankaru to Gyama Barma ( 5100 metres) 9 km  Level: Moderate 4 to 5 hours
From Rajungkaru, follow the river upstream until you see a rocky plateau with nomad camps. You'll need to climb up to the plateau, cross the stream and head straight south towards the Kyamayuri La 5410 m (17,853 ft.). Do not head towards the south west which leads over the Barma Pass. Instead, follow the well-defined track, keeping to the left or east side of the mountain. The last hour is difficult as the track becomes steep and the soil is soft and crumbling. It often snows on this pass so keep a jacket handy. From the top follow the track which runs along the left or east side of the mountain down to a vast, grassy valley ringed by snow peaks on the south west. A river runs east-west. Either camp here at Gyama Barma for the night or if you aren't knackered then continue upstream until the track moves south east up a rocky mountain. You will have to cross the stream to get to this.
Day 8 Gyama Barma to Gyama (5100m) 3 to 4 hours 9 km Level: Moderate
From Gyama Barma it is a steep one hour climb up to Kartse La which is again well over 5000 m. From the top the path runs down a meadow gradually reaching the bottom of the hill at Gyama after another hour or two.. There are two streams here. A small stream running west-east (right-left) and a larger one running southwest-northeast. Camp along the small stream as it is well sheltered. The larger stream runs through a windy plain which would get cold at night.
Day 9 Gyama to Korzok (4500m) Time: 6-7 hours 14 km Level: Moderate to Difficult
At Gyama cross the large southwest-northeast stream which will take you to the eastern side of the valley. The pony track which runs below the Mani wall on the left leads south-east up a smaller valley. Climb steadily for a couple of hours, traversing a small grassy plain and then entering a narrow gorge. You will need to criss cross the shallow stream in the gorge at several points. When the gorge opens up again find the path turning left or east over a grassy knoll until you come upon the prayer flags and cairns marking the Yalung Nyau La. From Gyama this would have taken about three hours. You can catch a glimpse of Tso Moriri from the pass. The track moves down steeply towards the east onto a broad, dry plain, eventually turning into a small pleasant green valley traversed by a stream. This area provides excellent campsites. A little further down towards Korzok and you will again run into campers from Leh who have made the journey to Tso Moriri by jeep. 
Tip: Check out the Gompa at Korzok which houses a tooth relic of Kashyapa Buddha in the Heart Chakra of the Buddha statue in the main prayer hall.
Day 10:  Rest Day Tso Moriri Day 11 Drive to Leh by road Time: 6 hours
Day 12: Leh to Delhi by flight
August 8-19 2018 12 days 
The cost of the trek is Rs  80,000 /- for Indians (US $ 1300 for foreign passports ) Leh to Leh plus taxes.  -  some exclusions apply.   
The cost  per person for Leh to Leh (12 days ) as per the itinerary given earlier
Costs given above are at current rates of 2017 and may change without notice. Changes if any will be notified 3 months before the trek.
Costs include: 
Transfer by four wheel drive vehicle from Leh to  Tso Kar ( day 3)  and pickup from Tso Moriri to Leh at the end of the trek. 
One day monastery visits around Leh – Shey, Thikse, Hemis etc. on day 2 in a private vehicle
Three nights  accommodation in Leh on twin sharing basis in a good standard hotel. 
All accommodation in tents and meals on trek for five days  (day 3 to day 7) as per itinerary; breakfast, lunch and dinner.  Basic Guest house in Korzok on Day 8 of the trek
Cost of guides/cook/helper/ponyman and ponies as needed for the trek. 
Costs not included
Flight Costs from home country to Leh and back. 
All meals in Leh not covered. 
Airport taxes if any. 
Client travel and medical insurance of any kind. Emergency evacuation costs if needed. 
Bottled drinks; boiled, filtered or bottled water; alcohol; snacks etc
Personal clothing and equipment; sleeping bag; duvet /down/ goretek jacket, medicines for personal use etc. 
Tips to guides/cook/helper/ponyman at the end of trek
Air Tickets
Present cost of air ticket Delhi – Leh – Delhi ranges between Indian Rs 12,000 to Rs 18,000 return. Early bookings will attract lower fares. Some airlines flying to Leh from Delhi are Jet Airways, Air India and Go Air.
ITEMS 
REMARKS
 
Duffle Bag
All the equipment listed below other than what you need for the day should be packed into a duffle bag, locked and handed over to the porters in the morning. In case you cannot get a duffle bag in your home country these are available very cheap in Kathmandu and I can help you with this. The duffle bag should not weight more than 10 kgs! 
1
Sleeping Bag
Warm sleeping bag is needed at least three season rated to 15F
2
Daypack or Hipbelt 
To carry water, one jacket some nuts, chocolates, cap, camera to keep with you in the day, maybe gloves and cap as well, hiking poles etc.
3
Boots or  Trekking Shoes
one pair  
4
Slippers or Sandals for camp
lightweight to wear in the evenings
5
warm Socks
2 pairs to carry  and one pair to wear
6
Gloves
one pair 
7
Underwear
1 to wear and 2 to carry
8
Warm Cap
one- Wool or fleece is usually good
9
Heavy jacket 
the warmest you can get as nights and early mornings are cold - down is usually preferred otherwise a warm synthetic filled jacket.
10
Thermal Underwear ( top and bottom) - long johns
inner layer to wear at night and early morning ;  
11
Mid Layer
Usually a jacket of fleece or wool which can be worn over a thermal layer or by itself while walking 
12
T shirts for walking
one to wear and 2 to carry - if the sun is hot you can walk in a T shirt
13
Trousers /tights etc
one to wear and one to carry light weight preferred
14
One Rain Jacket /Wind Jacket/Soft Shell jacket 
useful in case of wind ... you may need it in light rain though we would usually take shelter and wait for the rain to stop. Our trek is not in  the rainy season though some light rain/snow  in the late afternoon evenings cannot be ruled out. 
15
Torch or headlamp
one small needed  carry one set spare batteries
16
Sun bloc
one small tube should be ok spf 30 or 50
17
some essential medicines
vitamins, headache,  fever,  pain killers, diamox for altitude, your own specific medicines  etc
18
Hiking poles
if you have bad knees then this is recommended especially on the down hills!!
19
Water bottle 
one no 500 ml  or 1 litre is ok you can use the 500 or 600 ml empty coke or pepis bottles
20
Sun glasses
the sun is strong in the day
21
Cap for the sun
ditto!
22
small towel
for baths and wash up in case you can use the hot shower
23
toothbrush, paste, soap, shampoo, vaseline, comb
and any other toilet items you may need!
24
wet tissues - wet ones for bathroom
called wet ones in India
25
some washing powder surf etc small
to wash clothes en route if needed
26
Nuts, raisins etc all mixed up
can be divided into small packets for daily use
27
Chocolates /Energy Bars/Amul cheese slices/tea bags
Carry some chocolates or energy bars to have on the way. Amul cheese slices are very useful and can be had as snacks when you are tired of sweets!
28
Sweets
for energy
29
Volini  gel/ Bengay etc for aches and  pains
or any other equivalent
30
Iodine or chlorine tablets  for water purification
available in Kathmandu- this is important as mineral  water bottles are expensive; for overseas visitors you can get iodine tablets in REI and other large outdoor outlets
31
Electral or any other rehydating salts
Carry a few small packets  of electrolyte - useful to have mixed with water if dehydrated
32
some spare plastic bags to pack  wet stuff, dirty clothes etc 
 
33
Book in case you want to read on the way and IPOd for music optional!
34
Two  small locks one for your duffle bag and one for your room in case the lodge does not have a lock
35
Clothes line with hooks on either side in case you want to hang up your wet clothes to dry outside!!
36
Super Glue
 To patch up boots that may give way!
37
Face mask 
For dust, cold winds etc available in kathmandu
38
Extra shoe laces 
one pair
39
Binoculars
 
Sujoy Das
India: +919831054569; Nepal: +977 9818037020
CANCELLATION POLICY
The cancellation policy and refunds available are given below:
0-7 days before the start of the trek =75%
8 -15 days before the start of the trek = 50%
16-30 days before the start of the trek = 35%
31-45 days before the start of the trek = 25%
46 days and above = 15%
IN CASE OF LEAVING THE GROUP
If due to illness or any other reason a client has to leave the group and go down or wait at a lodge for the group to pick him/her up on the way back or return to Leh, all expenses including lodging, fooding, transport and any porter/guide related expenses if any are to be borne by the individual client over and above the trek fees paid for the trek. There are also no refunds for leaving a trek before completion.

HIRING OF PONIES ETC
In the eventuality of a client needed the services of a pony to come down to lower altitudes, the cost of hiring the pony will be paid by the client.
DELAYS DUE TO BANDHS, STRIKES AND OTHER FORCE MAJEURE EVENTS
In the event of a delay in starting or ending the trek due to issues beyond the control of South Col, additional costs if any arising out of the same would have to be borne by the clients.
TREK ROUTE
The trek route and day wise schedule will be fixed by South Col and will have to be followed by the client.

RISKS AND LIABILITY
The trek is in a remote mountain area and has certain additional dangers and risks, some of which include: physical exertion for which the client should be prepared; weather extremes subject to sudden and unexpected changes; remoteness from normal medical services; evacuation difficulties.
In the event of injury or illness South Col Expeditions (Sujoy Das) or its Staff can, at the clients cost arrange any medical treatment and emergency evacuation service as it or they deem necessary for the health and safety of the client. You will need to sign the waiver of liability and release form prior to commencement of the trek.