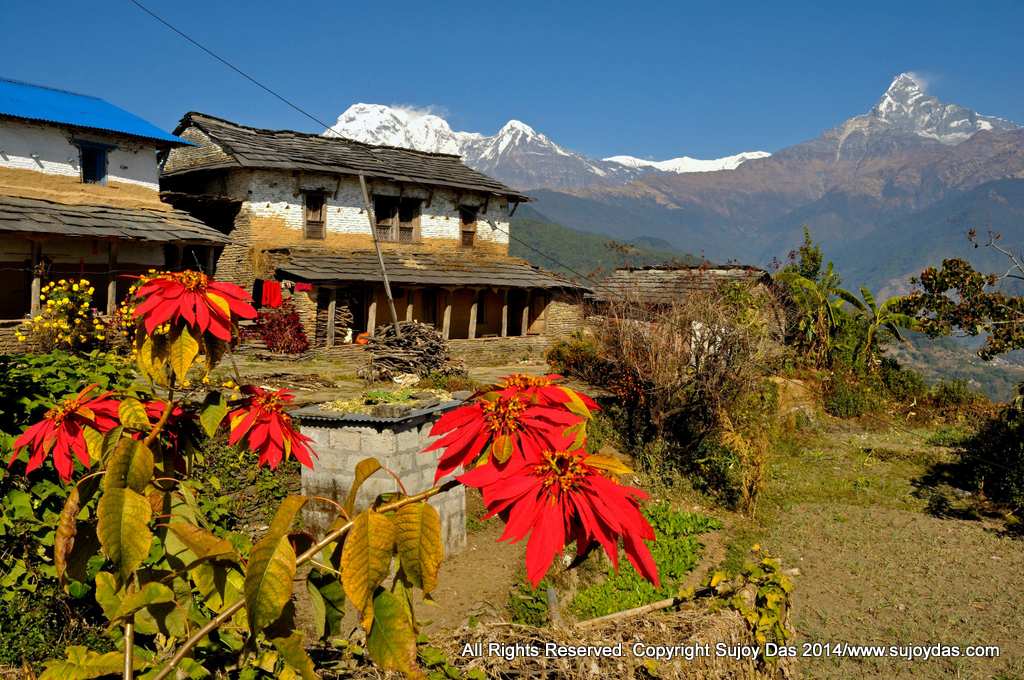 There are some very scenic day walks in and around the Pokhara valley in western Nepal.
Pokhara to Sarangkot
Though it is possible to reach Sarangkot by road in forty minutes, a more rewarding day hike is to walk from the end of Pokhara lake upto Sarangkot in about 2.5 to 3 hours. Walk along Lakeside to the end of the lake and then enquire for the small path to Sarangkot. It is possible that the path is overgrown as many dont use it nowadays. Once you are on the path keeping climbing steadily and watch the Pokhara lake drop away below you. You could have lunch in Sarangkot and return by walking or road but more rewarding is to spend the night in one of the lodges there and see the spectacular sunrise over the Annapurnas.  At night you can see the lights of Pokhara town and the lake flickering below.
Take a taxi or bus from Pokhara to Phedi which is about forty minutes away. From Phedi a steep trail leaves the road head for Dhampus which is about 1850 metres and two to three hours away on the ridge. The trail climbs steadily through terraced fields, small villages and party through forest. Dhampus brings you one ridge closer to the mountains and there are a number of lodges here for lunch or if you want to stay the night. The are regular share jeep services from Dhampus back to Pokhara. 
 Pokhara to Australian/Austrian Camp 
About an hour from Phedi, is the small town of Kande on the road to Nayapul and Beni. From Kande if you take the trail and climb north east through a forested path you would reach  a clearing at the top of the ridge with a number of lodges and a view of the Annapurnas to die for! The walk from Kande would take about two hours up and the lodges would offer lunch and a bed for the night if needed. It is also possible to continue from Dhampus on the previous walk and reach Australian Camp in about an hour.