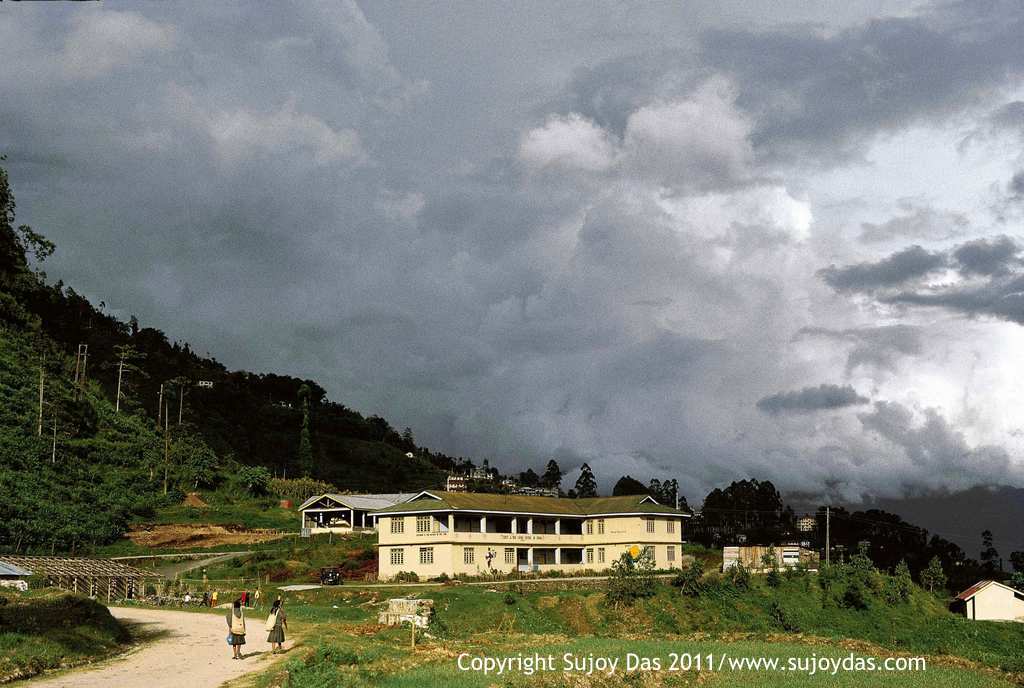 There are a number of very beautiful day walks in Sikkim which are worth doing especially in the clear autumn and winter season when the Himalayas are visible in all their glory.
Rabongla (2100 m) to Mainom Top (3200 m)
The town of Rabongla is situated on the road to Pemayangste about a three hour drive from Gangtok. The three kilometre steep climb from the town brings the trekker to the hill top of Mainom, which towers above the town. The picturesque walk is thorough the Mainom Wildlife sanctuary; during spring the rhododendron display is quite spectacular. On a clear morning the hill top has a view of the peaks of the Kangchendzonga range.
Damthang (1650 m) to Tendong (2600 m)
Damthang is located fourteen kilometres away from Namchi, the district headquarters of South Sikkim on the Gangtok-Namchi (via Temi) road. The climb to Tendong takes about two hours from Damthang on a trail through the dense forests of the Tendong Sanctuary. Tendong is a fine viewing point: to the east is the Chola peaks, to the west Kanchendzonga and the Singalila range, to the north east can be seen the peaks of the North Sikkim plateau including Gurudongmar.
  Hillay (2750 m) to Barsai (3000 m)
The four kilometre walk to the Barsai rhododendron sanctuary passes through forests with a view of the Kanchendzonga peaks in the foreground. During March and April this part of the trail is ablaze with rhododendron blossoms and is a delightful day walk with stunning views.
 Pemayangtse to Sangacholling Monastery
This is a walk from Pemayangste to Sangacholling following the ridge, which joins the two monasteries. The initial walk upto Pelling is flat and on a good day there are brilliant views of the peaks right across the valley. From the Pelling playing field there is a stiff forty five minute climb to Sangacholling. On a clear day the Darjeeling ridge can be seen to the south. To the north is visible all the peaks of the Kanchendzonga range as well as some of the most important monasteries in west Sikkim perched on the hill tops to the north and east, including Khechuperri, Pemayangtse and Dubdi.