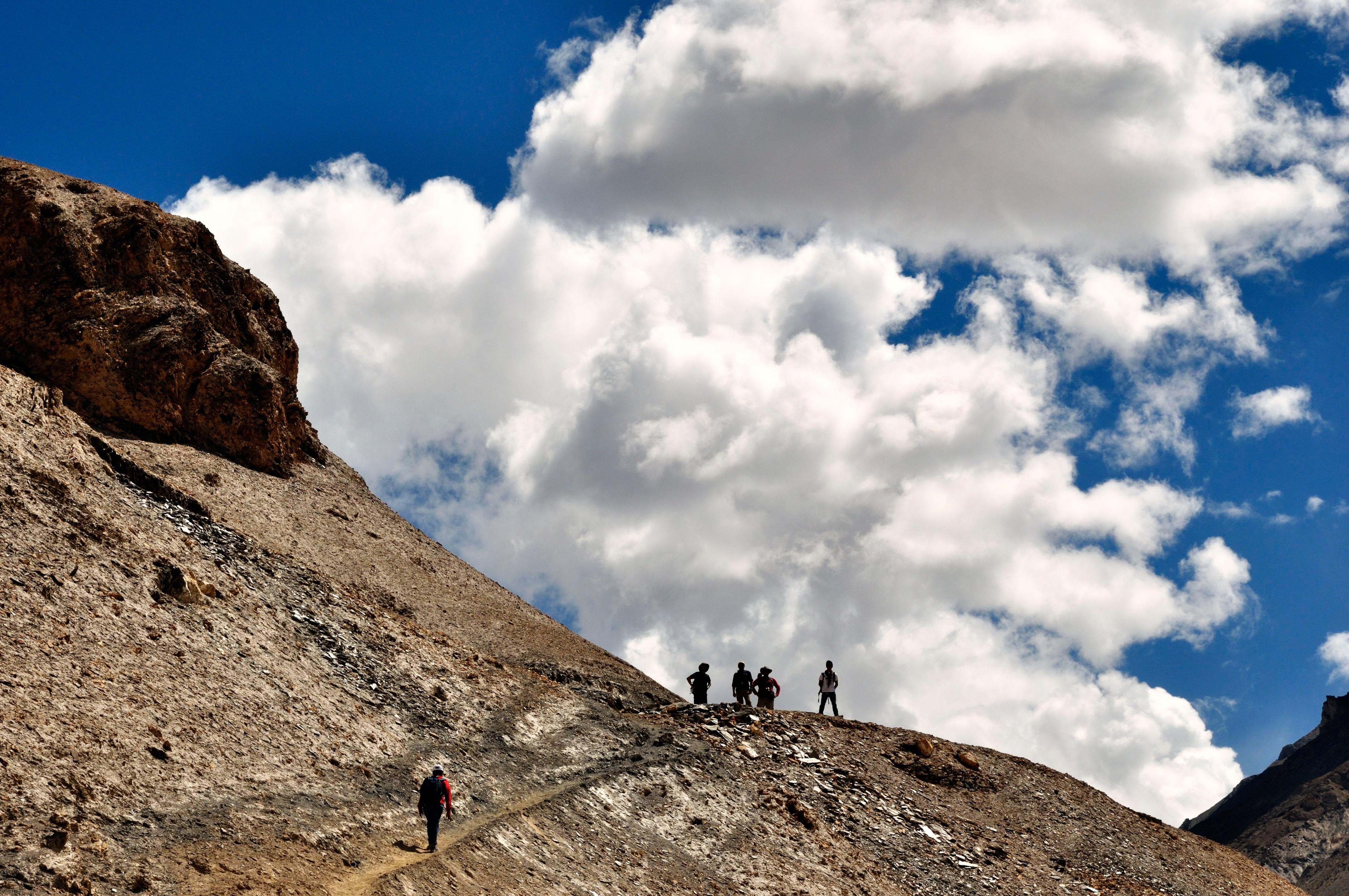 There are some short half day and full day hikes in and around Leh which are rewarding in themselves and also useful for acclimatisation if you are going on a longer trek.
Leh Town to Leh Palace and Monastery
This is a good half day acclimatisation walk which takes you up through the main market to the Leh Palace above and then following another walking track to the monastery on the hill top which is visible from Leh. You can descend the same way or take the steep short cut down which brings you to the manin road heading to Kahrdung La. Ask at the monastery if the short cut down is possible as sometimes the trail can be difficult due to landslides. A great view from the top especially in the evening light and good practice if you are trekking in Ladakh after this.
Leh Town to Shanti Stupa
This is a must do walk for everyone who comes to Leh especially in the evening to see the sunset. It is not long perhaps 45 min to an hour depending on you fitness and walking speed up the steps. The view is spectacular towards the Leh Palace and at sunset towards the Stok Kangri range. There is a monastery to visit on top as well as a meditation prayer hall.  From the town ask someone the way to the Changspa Road and then head up the slowly to the top. Another god acclimatisation option though dont do it on your first day in Leh.
Stok Village  3780 metres to Mankarmo 4250 metres
Though this would be about five hours walking up you could walk part of the way for around 2-3 hours and then return to Stok. From Leh, Stok village and the palace is around a 45 minutes drive. From here the trail starts towards the Stok Kangri Base Camp which is now closed  for two years to protect the environment. The trail follows the river and then entire some fantastic rock canyons reminiscent of the film " Mackennas Gold" - to see these canyons is well worth the day hike.  Return the same way. If you go to Mankarmo and back it would take the whole day but a half day hike is also possible part on  a part of the route. A useful objective is to aim to cross 4000 metres and then return.